Make a gluten-free Valentine pizza!
Posted on February 2nd, 2010 by Alison
Read 3 Comments - Add Your Own »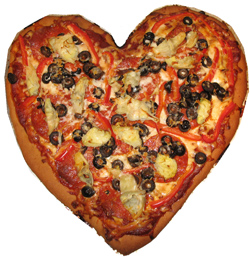 Valentine's Day is about love. And who doesn't LOVE pizza? Better
yet, gluten-free pizza?
Decorating cookies is fun, but decorating a heart-shaped pizza is another great activity to do with kids. Bonus: you have dinner made!
To make heart-shaped gluten-free pizzas, I make the pizza dough using the Chewy Pizza Crust recipe on the bag of Pamela's Gluten-Free Bread Mix. I add some salt to the dough while mixing because it cuts the sweetness a bit which I like better for a pizza crust. This pizza is also dairy-free, soy-free and egg-free!
You can do the following for any pizza dough recipe:
Grease baking sheets or pizza pans or heat a pizza stone.
Divide the dough into as many pizzas as you want. You can make the pizzas as thick or thin as you want, or as big or little.
Pour some olive oil on a little plate and press your palm into it.
Use only your palm to spread the dough. Don't get your fingers in the dough because they will get sticky! If you get dough stuck on your hands, wipe it off and start again with a clean palm in the olive oil. Kids can try spreading the dough themselves!
Shape the dough into a heart and let rise as directed. After dough rises, reshape the heart if needed.
Partially bake as directed.
Put out different toppings and let the kids decorate their pizza. Sliced olives and salami (not spicy like pepperoni) are a favorite. We make some without cheese since my kids don't eat dairy. You could go for an all red pizza — sauce, tomatoes, red peppers, pepperoni.
Bake as directed. The longer you bake, the crunchier it will get. Also, judge the baking time based on how thick or thin you made the dough.
Say "I love you" and/or "I love pizza" as you bite into your delicious gluten-free Valentine pizza!