Simple Salmon Spread Recipe – Gluten Free Progressive OSCAR Dinner Party
Posted on February 25th, 2010 by Alison
Read 5 Comments - Add Your Own »
Want a simple, yet elegant spread for your gluten-free crackers or toasts? Try a Simple Salmon Spread! This would be a great appetizer for an Oscar soiree, and is part of the menu for the Gluten-Free Progressive OSCAR dinner party.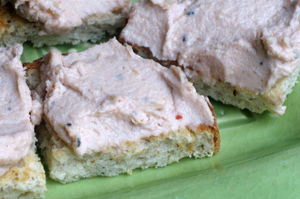 Alison's Simple Salmon Spread on Gluten-Free Toasts
INGREDIENTS
About 8 oz. of cooked salmon, skin removed. Bake the salmon in a 375-400 degree oven until just cooked through (about 15-20 minutes). Anyway you want to spice the salmon when you cook it is fine — the flavors will come through in the dip. For my dip, I used leftover barbecued salmon from our dinner the night before, which my husband had spiced with his top secret marinade of olive oil, brown sugar, cayenne and thyme (now I have to kill you).
About 3 oz. of cream cheese.
Some lemon.
Some salt.
Some dill would be nice (I didn't have any).
Sliced bread (gluten-free), toasted and cut into squares. I used Udi's Gluten-Free Whole Grain bread.
DIRECTIONS
Put salmon in food processor fitted with the steel blade and process until smooth.
Add cream cheese and process. Add more or less depending on your preference.
Squeeze some lemon and add dill and a little salt, gradually until you like the taste.
Serve in a bowl and let guests spread on the gluten-free toasts.
This recipe is one of the stops of the Gluten Free Progressive Oscar Dinner Party!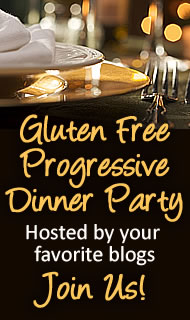 Each day this week you'll find new gluten free dishes being "served" by other bloggers. This month's offerings will help make your Oscar party award-winning! Follow the schedule as you would a map through a neighborhood. Stop by, leave a comment, pass on the information to your friends and have a wonderful time!
Here is the schedule:
Monday February 22nd:
Veronica's Pumpkin Soup from Shirley at gluten free easily
Tuesday February 23rd:
Avatar-Inspired Millet Eggplant Croquettes and Chips from Sea at Book of Yum

Wednesday February 24th:
Kale Chips from Karen at Cook4Seasons
Gluten and Dairy-free Whipped Cream from Diane at The W.H.O.L.E. Gang
Southern Fried Oysters by Shirley at gluten free easily
Thursday February 25th:
Simple Salmon Spread by me
Friday February 26th:
Ellen at I am Gluten Free
Past Progressive Dinner Parties:
Light Winter Warmers
Dessert