Eco-Planet gluten-free instant hot cereal
Posted on May 23rd, 2010 by Alison
Read 8 Comments - Add Your Own »
I grew up opening those little packets of Quaker Instant Oatmeal — I can remember the smell and taste of the Maple & Brown Sugar flavor and how all the sugary stuff came out at the end. Since most commercial oats, Quaker included, contain gluten because of the contamination with wheat, only "gluten-free oats" are considered safe for a gluten-free diet.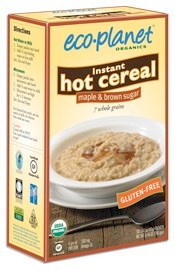 I have tried other gluten-free hot cereals, and some are very satisfying, but my favorite (and my daughter's favorite) is Eco-Planet Organics Instant Hot Cereal. Maple & Brown Sugar flavor of course!
The hot cereal contains 7 whole gluten-free grains: oats, buckwheat, sorghum, brown rice, puffed amaranth, quinoa and millet. It also contains flaxseeds and chia seeds! There are three flavors: Original, Apples & Cinnamon and Maple & Brown Sugar. The product is made in a dedicated gluten-free facility, tested for the presence of gluten, and certified gluten-free. It is also free of the top 8 allergens.
The ingredients of the Maple & Brown Sugar flavor are:
Organic Instant Rolled Oats, Organic Puffed Amaranth, Organic Evaporated Cane Juice, Natural Maple Flavor (Organic Brown Sugar, Natural Maple Flavor), Organic Chicory Root Powder, Organic Flaxseed Flour, Chia Flour, Organic Brown Rice Flour, Organic Sorghum Flour, Organic Quinoa Flour, Organic Buckwheat Flour, Organic Millet Flour.
This is a satisfying, delicious and quick breakfast. Healthy too — there are 5 grams of protein and 500 mg of Omega-3s in every serving. Add your own fruit or nuts for variety.
Eco-Planet Instant Hot Cereal is available in natural foods stores and online. Contact the company directly for more details.