Vegetarians eat a lot of gluten
Posted on May 18th, 2010 by Alison
Read 6 Comments - Add Your Own »
When I hear of someone who is vegetarian or vegan and doesn't feel well, I think of gluten. I have nothing against people who don't eat meat. I just think that vegetarianism has changed over the years from being about eating grains, fruits and vegetables to eating processed meat alternatives. There is a danger lurking in the meat substitutes that have become so popular, and that danger is gluten.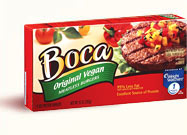 Gluten is a primary ingredient in meat replacement products because of its ability to have the texture of meat. Extracted from wheat, gluten is pure protein, the very part which many people cannot tolerate. In my 20s, I decided to cut down on my meat consumption and Boca Burgers became a common item in my freezer — I loved them and thought I was being healthy. It was also in my 20s that I became sicker and sicker. I'm not blaming Boca Burgers for my downfall– that would be stretching it! But I do think that there is far too much gluten in the average diet, and even in the diets of people who think they are being ultra-healthy by not eating meat.
Just to give an example of how gluten shows up in place of meat, I will compare a hamburger to a Morningstar Farms Veggie Burger:
In a homemade hamburger, there is usually one ingredient: BEEF, and maybe some SPICES.
In a Morningstar Farms Veggie Burger, there are many ingredients involved in making it taste and feel like meat, including gluten ingredients (shown in bold below):
TEXTURED VEGETABLE PROTEIN (WHEAT GLUTEN, SOY PROTEIN CONCENTRATE, SOY PROTEIN ISOLATE, WATER FOR HYDRATION), CORN OIL, SUNFLOWER OIL, EGG WHITES, CONTAINS TWO PERCENT OR LESS OF CORNSTARCH, NATURAL FLAVORS FROM NON-MEAT SOURCES, SOY PROTEIN ISOLATE, AUTOLYZED YEAST EXTRACT, SALT, CARAMEL COLOR, ONION POWDER, SPICES, HYDROLYZED VEGETABLE PROTEIN (CORN, WHEAT, AND SOY), GARLIC POWDER, POTATO STARCH, MALTODEXTRIN, DISODIUM GUANYLATE, DISODIUM INOSINATE, SUCCINIC ACID, SUGAR,
NONFAT DRY MILK, SOYBEAN OIL, WHEAT FIBER.
Here are the ingredients of the original Boca Burger that I loved:
WATER, SOY PROTEIN CONCENTRATE, WHEAT GLUTEN, CONTAINS LESS THAN 2% OF METHYLCELLULOSE, SALT, CARAMEL COLOR, DRIED ONIONS, YEAST EXTRACT, SESAME OIL, HYDROLYZED WHEAT PROTEIN, NATURAL AND ARTIFICIAL FLAVOR (NON-MEAT), DISODIUM GUANYLATE, DISODIUM INOSINATE. CONTAINS: SOY, WHEAT, SESAME.
In addition to eating a lot of gluten in these specialty non-meat foods, many vegetarians are also consuming gluten in other foods such as pasta, cereals, crackers, breads and all the other wheat-based foods that are staples in our society.
I write this post as a caution to those who think that they should be feeling better than they do because they eat a vegetarian or vegan diet. It could be what you are eating a lot of that is making you feel worse, not better. I don't believe that overloading on gluten and soy is a healthy way to live. There are many people living both vegetarian or vegan AND gluten-free.
What do you think? Do vegetarians and vegans eat more gluten than others?