Amy's introduces gluten-free burritos
Posted on August 19th, 2010 by Alison
Read 4 Comments - Add Your Own »
Back in 2007 I wrote about how I make my own gluten-free burrito, the big Mexican-food-place kind of burrito. But there is the other kind of burrito I remember from junior high and high school days — the frozen bean and cheese burrito in the plastic wrapper that you popped in the microwave and ate as a snack. Remember those? It's funny how we can remember tastes even if that food hasn't touched our taste buds in years. Those burritos are like that for me. I'm not claiming they are a fabulous food that I miss after going gluten-free, but there is definitely something nostalgic about this little frozen burrito.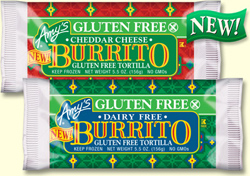 When Amy's offered to send me their new gluten-free burritos to try, the taste came to my memory and I wondered if theirs would taste like I remember. They have two flavors: the traditional bean and cheese, and a dairy-free version (thank you, Amy's, for not putting tofu in a burrito!)
I first tried the gluten-free dairy-free bean and rice burrito and I have to say, I really liked it! It did split in the middle when I microwaved it according to directions, so I wasn't able to pick it up (like I remember doing long ago), but I managed with a fork. I thought the flavor was really great on both the tortilla and the filling. I shared it with my daughter who thought it was too spicy — but keep in mind that she is so ultra-sensitive to spices that if there were one speck of pepper in her entire meal she would know it! It was barely spicy.
On a different day we tried the gluten-free bean and cheese burrito. Very good! This one is not spicy at all, as confirmed by my daughter (I had her try a little even though she doesn't regularly eat dairy). The cheese in this burrito is not obvious — it gets melted into the beans. When my husband tried some, his response was "Legit." A man of many words is he. Translation: "It's a legitimate version of a regular burrito." He's right. It works. Are Amy's gluten-free burritos exactly the same as other frozen burritos? Thankfully, no. They are much healthier!
GlutenFreeda also makes gluten-free frozen burritos. If anyone has opinions about either of these burrito brands, let us know in the comments!