Hail to the Kale — How to Make Kale Chips
Posted on November 17th, 2010 by Alison
Read 3 Comments - Add Your Own »
Tonight my girls chowed down a plate of kale and fought over the last bite, which I then had to split in half. No, I'm not magic! The kale tasted good. Take it from my 4 year old who looked at it and said "Yuck" and then tasted it and said "Yum!" It feels good to watch your kids eat such a powerhouse veggie, packed with vitamin K, vitamin A, vitamin C, calcium, vitamin B6, and magnesium! Plus, it's in season now (winter).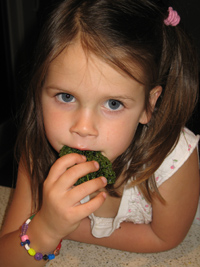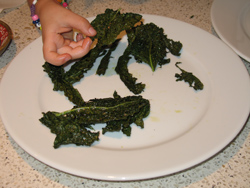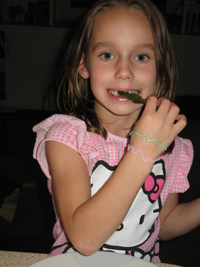 I was first introduced to the idea of kale chips by Michelle of What's Cooking With Kids many months ago when she shared with me her simple recipe as we walked through the Marin farmer's market. Combining her instructions, a few tips from Kalyn of Kalyn's Kitchen, and my own advice, I am sharing how I made the kale chips that my daughters loved so much.
KALE CHIPS
Ingredients:
One bunch of organic kale (try to get Lacinato kale, otherwise known as Dinosaur or Tuscan kale — the hearty leaves are dark blue-green) UPDATE: I've decided I like regular old green kale better for chips and it is easy to break the leaves off the stem.
Olive oil
Salt (I prefer fine grain sea salt for these chips)
Directions:
Wash the kale leaves and spin dry in a salad spinner, or dry with a towel or paper towels.
Tear the kale into pieces, removing the stem. A tip from Michelle (this is a great one!): "Hold the thick stem of each kale leaf with one hand. Pinch the base with the fingers of the other hand and rub them up the stem – the leaves will tear right off!" I actually held the leaf unpside down and rubbed downward, which worked great and made separating the leaves from the stem go so much faster.
Put the kale leaves in a plastic ziplock bag (or a bowl if you don't want to waste a plastic bag), pour in some olive oil and massage the oil into the leaves, making sure each leaf is coated. Don't be stingy with the oil, but you don't want it to be dripping either. If you are a fan of sea salt and vinegar taste, you can sprinkle some vinegar in here — balsamic or any other kind of vinegar you like (I did not use vinegar).
Line a couple of baking sheets with parchment paper (which I prefer) or put leaves directly on baking sheet (I prefer a rimmed baking sheet because they tend to slide around easily).
Lay out kale in a single layer on the baking sheets.
Sprinkle sea salt over every piece of kale.
Bake in a 250 degree oven for 20-25 minutes, or until crisp. Don't let them turn brown or they will be overbaked.
There you have it — a great appetizer or snack! I would love to know if you try this and your kids go for it (and if you don't have kids, enjoy it all to yourself — so healthy and delicious!)