Gluten-free beer made from barley – would you drink it?
Posted on December 29th, 2010 by Alison
Read 21 Comments - Add Your Own »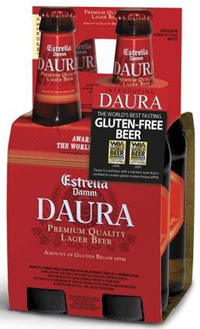 There is a gluten-free beer from Spain called Estrella Damm Daura, which its manufacturers call a lager and say "retains the same taste and properties as tradition beers." The reason it tastes like other beers? It's made from barley malt! As you students of gluten-free life know, barley contains gluten, so how can a beer made from barley malt be gluten-free? According to the manufacturer, the level of gluten is lower than the European gluten-free standard of 20 parts per million, or ppm.
According to their website, "Estrella Damm Daura is the result of a long collaborative research process between Damm and the CSIC (National Scientific Research Council) gluten unit, using the most advanced technology. It is the first beer in Spain to guarantee a gluten content below 6 ppm (products with a gluten content below 20 ppm are suitable for people with coeliac disease). Estrella Damm's research and strong social commitment have made this breakthrough possible, which comes as excellent news for all those with coeliac disease."
For those of you who don't understand what this parts per million business is about, this is how I understand it: The Codex Alimentarius Commission was created in 1963Â  by two agencies of the United Nations — the Food and Agriculture Organization (FAO) and the World Health Organization (WHO) — to develop food standards. This commission revised the gluten-free standard in 2008 to be 20 parts per million. This means that in order for a food to qualify as gluten-free by the Commission's standards, its gluten levels must test at 20 ppm or less. Think of it as dividing a piece of bread into a million crumbs — no more than 20 of those crumbs can be gluten for it to be called gluten-free. If you like percentages better, this translates to .002%. Keep in mind that this is a standard set by that commission only, and it is up to the countries to adopt it if they choose. Here in the U.S. we have adopted no standard yet — anyone can put "gluten-free" on a label and it officially means nothing. The FDA is working on setting a standard and is considering whether to adopt the Codex standard or to make the ppm even lower.
So, let's take this beer. Their detectable level of gluten is 6 parts per million. Divide the beer into a million sips — 6 of those impossibly tiny sips would be gluten, or .0006% of the beer. Logically and rationally and statistically it seems like this beer could pose no problem. But psychologically, would one drink a beer made from barley, an evil grain in the gluten-free world? Anecdotally, I know of people who react to the tiniest bit of gluten, so would they react to this seemingly negligible amount?
And you might be wondering… did I drink it? I had two sips of one bottle, my husband drank the rest. I didn't notice any reaction and neither did he (he is gluten-sensitive). Although I did like the taste, my fear of barley overshadowed the enjoyment of finding a really great gluten-free beer.

Clinical trials are being conducted for another gluten-free beer made from barley called Saxon from Finland. Their claim is that after testing many European beers for their gluten content, "many Finnish barley malt beers had a very low content of gluten compared to many European and especially to Belgian and German beers. The observation led to an idea of an improved process to reduce the amount of gluten in barley malt beers. Further process trials proved that it is possible to control the brewing process in a way that beers made from malted barley repeatedly show prolamin and gluten levels well below the 20 ppm level, the level for natural gluten free products. Even below detection limit (5 ppm)." Because of these studies, The Finnish Coeliac Society granted Sinebrychoff/Carlsberg breweries, the maker of Saxon beer, permission to use the gluten free logo on Saxon beer. You can read more about the science and testing behind these conclusions on the Saxon website.
I wonder if gluten testing has been conducted on commercial beer here in the U.S. I know of one gluten-sensitive friend who drinks Budweiser with no problem. I am certainly not advocating drinking beer if one has celiac or is gluten-sensitive! But I am curious about how much the gluten content varies between brands. As for me, I'm sticking to Redbridge.