Asthma is linked to gluten, study finds (and so did I)
Posted on February 26th, 2011 by Alison
Read 17 Comments - Add Your Own »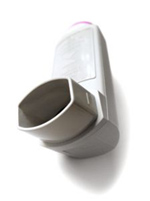 People with celiac disease are more likely to develop asthma, according to a new study published in the Journal of Allergy and Clinical Immunology. And, those diagnosed with asthma are more likely to develop celiac disease. How are asthma and gluten linked? The researchers are not quite sure what makes people with celiac disease have a 1.6 fold increased risk of asthma (60% more likely to have asthma) than those without. However, one of the researching doctors in a Reuter's Health article on the study, speculated that it is related to vitamin D deficiency.
Since people with celiac disease have damaged intestines, they are unable to properly absorb nutrients. According to the Vitamin D Council, Vitamin D helps "the immune and nervous systems defend the body, with defects in this intricate system leading to autoimmune disorders." Several studies have shown that lower levels of vitamin D related to higher incidence of asthma in children. Just supplementing with vitamin D isn't enough if the body can't absorb it, as is the case with celiac disease. Removal of gluten is the only way to heal the intestines, so that they can begin to absorb vitamins again.
But forget those studies… just look at me. I puffed on asthma inhalers every day for about 25 years and took prednisone when the inhalers weren't enough. Three months after I started a gluten-free diet after I was diagnosed with celiac disease at age 32, I stopped my medication cold turkey. I never used it again. It has been over 8 years.
I hadn't considered vitamin D deficiency as a cause of my asthma before reading this new study. I recently had my vitamin D tested and it is low even now, so I can't imagine what the level was before my diagnosis — I was never tested for vitamin deficiencies in the past.
If you have asthma, I urge you to get tested for vitamin deficiencies and for celiac disease. Think of your asthma as a symptom for which there is a cause. To be able to breathe again — now that is a gift.
You can read more about me and my asthma and if you've got a story about your asthma, please share it in the comments.