Gluten-free corn-free tortilla recipe
Posted on February 3rd, 2011 by Alison
Read 9 Comments - Add Your Own »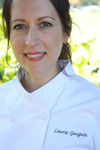 I am excited to bring you a tortilla recipe from Laurie Gauguin, a personal chef and food writer in the San Francisco Bay Area who specializes in gluten-free cooking. I love that this recipe uses yellow split peas, a great source of fiber and protein. To learn more about Laurie and her services, visit her website: www.lauriegauguin.com.
ALLERGEN-FREE TORTILLAS
This recipe works with a variety of legumes, such as black-eyed peas and split chickpeas. I like using the split peas because they cook up a lovely golden color, and their flavor is sweet and nutty.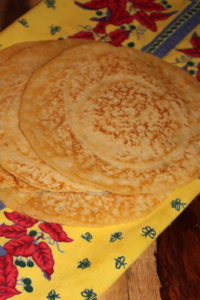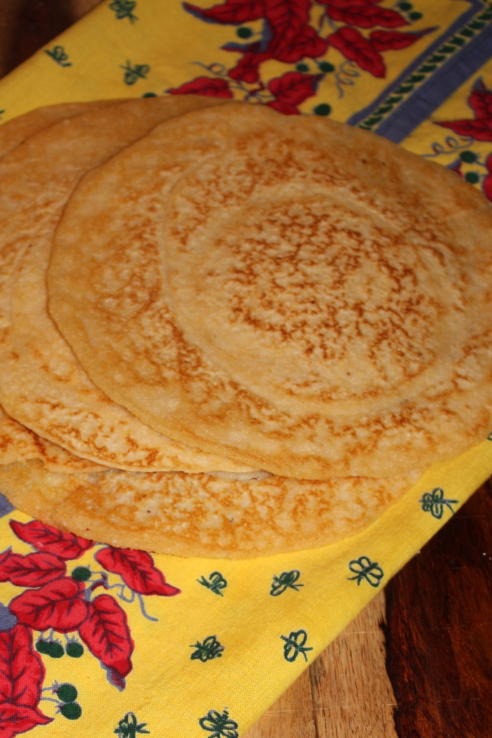 Like corn tortillas, these become pliable when heated. Pop them in the microwave or warm them in a dry skillet before using. If you like crispy edges, add a little oil to the pan when reheating.
INGREDIENTS:
3/4 cup yellow split peas
1/4 cup long-grain white rice
1/4 teaspoon salt
1/2 cup water
oil for the pan
DIRECTIONS:
Cover the split peas and rice with 2 inches of water. Cover and set aside on the counter overnight.
Drain the peas and rice, then put them into the bowl of a food processor. Add the salt, then process until the mixture is finely chopped, scraping down the sides of the bowl as necessary.
With the motor running, gradually pour in ½ cup water. Scrape down the sides of the bowl, then continue to process for 3 minutes. The batter should be the consistency of pancake batter (but grainy). If it's too thick, stir in a spoonful or more of water.
Heat a skillet over medium heat. Once hot, add a thin layer of oil. Pour in 1/3 cup of the batter, then spread it around with a rubber spatula until you have a 7-inch tortilla. Cook for 1-2 minutes, until the tortilla is golden around the edges. Flip and cook 30 seconds to 1 minute more, until bottom side is lightly freckled. Remove from the pan, then repeat the process for the remaining batter.
Yield: 7 tortillas