Picco Restaurant does gluten-free right on a special night
Posted on February 20th, 2011 by Alison
Comments Off

on Picco Restaurant does gluten-free right on a special night
My dad turned 70… ten months ago. Celebrating a big birthday on someone's actual birthday is so predictable (that, or perhaps I just didn't get my act together to plan something on the real day). So when my sister flew out last weekend to help me surprise our dad with dinner and third row seats to Bill Cosby, it confirmed that procrastination has its perks!
Everything worked out perfectly. We surprised both my mom and dad with my sister's unexpected presence in my kitchen ("We have a big Valentine for you!" my daughter told them). We spent the gloriously sunny winter day taking a walk in our neighborhood, seeking shade because it was too warm, much to the liking of my sister who came from snowy D.C. Then we headed out to dinner.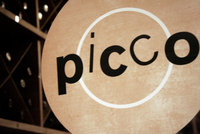 I chose Picco Restaurant in Larkspur because each time I have been there, I have eaten delicious food. I like the atmosphere too — stylish, yet unpretentious. This night, my expectations were surpassed not only by the food, but by the attention of our server to our gluten-free needs (both my parents and I are gluten-free).
The first thing our waiter did after greeting the table was acknowledge that we were gluten-free (I always call ahead and let the restaurant know). He spoke with confidence, and assured us that almost any dish we wanted could be accommodated to be gluten-free, except the obvious pastas. When he later came to take our order, he showed that he was aware of cross-contamination issues by informing us that the french fries are in a shared fryer with gluten-containing items. He even went so far as to warn us that he wasn't sure if the cornmeal used in the polenta was free of wheat contamination. At which point I said, "I love you — you are speaking our language!" (The wine may have already kicked in by then.) Well, turns out, his wife has celiac disease. When I asked if anyone else at the restaurant had the same knowledge about gluten that he did, he assured me that everyone in the restaurant is very aware and that they always check with the chef.
For the food, the service, the awareness, and the ambiance, I highly recommend Picco Restaurant, whether you must eat gluten-free or not. "Local, seasonal, ingredient-driven is the mantra for Picco's cuisine."
Here's what we enjoyed (plates are meant for sharing):
hog island oysters on the half shell, chile-cilantro mignonette
hamachi crudo, blood orange, baby fennel, calabrian chili, radish, artichoke chips, olivestri olive oil
grilled romaine lettuce, market pear, toasted hazelnut, aged gouda, champagne vinaigrette
sautéed broccoli di ciccio, preserved lemon, garlic chili condiment
risotto made from scratch on the half hour (ours had leeks, calabrian chili, and asparagus — delicious)
mesquite grilled monterey bay squid, gigante beans, mandarin orange, oro blanco, green olive, paesano olive oil
braised short ribs (don't have the other details on this one, but I am always happy to find short ribs that aren't braised with soy sauce)
Oh, and in case you are wondering about Bill Cosby — he was great! His expressions (from the third row remember!) were priceless. Thanks to Picco and Bill, and my sister's mileage ticket, it was a successful 70th birthday surprise!
Picco Restaurant is located at:
320 Magnolia ave.
Larkspur, California 94939
415.924.0300
Open for dinner only, seven nights a week