Jovial gluten-free pasta (Win Stuff Wednesday!)
Posted on March 30th, 2011 by Alison
Read 30 Comments - Add Your Own »
There is a new gluten-free pasta on the market called Jovial.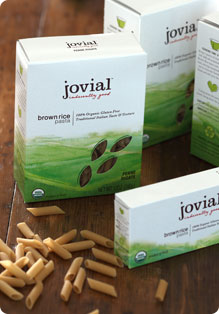 Imported from Italy, the brown rice pasta is 100% organic, made from rice grown in Italy. I am so excited about this pasta! It not only tastes great, but it has a wonderful texture. It doesn't get sticky or starchy or crumbly like other gluten-free pastas, and it truly has an al dente bite to it if you want it to.
Their website tells a great story:
"Jovial gluten free products were developed out of a heartfelt compassion for all of us who have had a food intolerance critically effect personal health and wellness. We believe eating gluten free should be pleasurable and not feel like a sacrifice. It is not that products formulated without gluten can't taste great; it's how relentless you are in developing them."
From their packages:
"Jovial Brown Rice Pasta is as close to traditional pasta as possible because it's made in Tuscany by master artisans who have been crafting pasta for over a century. It is pressed with bronze dies and dried at low temperatures for the most authentic flavor."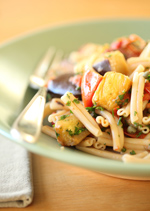 Allergen info:
"Jovial brown rice pasta is certified by the Gluten Intolerance Group at a level less than 10PPM. This product is made in a dedicated facility free of gluten, casein, eggs, tree nuts and peanuts, but may contain traces of soy."
The pasta comes in five shapes: spaghetti, capellini, penne rigate, fusilli and caserecce (pictured at right). The biggest problem may be finding it, but I suspect that will change as more and more people demand this product — ask your natural foods store if they can get it. And be careful — Jovial also makes an einkorn pasta, which is NOT gluten-free. The brown rice pasta comes in green and white boxes.

Want to win some gluten-free pasta? Leave a comment about which shape of Jovial pasta you would choose if you won and your favorite way to prepare or eat it — we can all inspire each other with some new ideas! You can even link to a recipe that you created or that you like. There will be SIX winners who will receive, courtesy of Jovial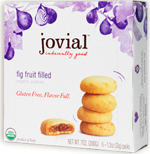 Foods, a box of pasta and a bonus prize of a box of Jovial gluten-free Fig Fruit Filled Cookies. Contest ends Friday, April 1 at midnight PST.