Egg-free soy-free mayonnaise
Posted on April 29th, 2011 by Alison
Read 18 Comments - Add Your Own »
I have been looking for egg-free soy-free mayonnaise, and have finally found it! Vegenaise has always been eggless, but they used soy in all of their mayos. Their new product is soy-free also for those also avoiding soy (mayonnaise is always dairy-free, in case you were wondering).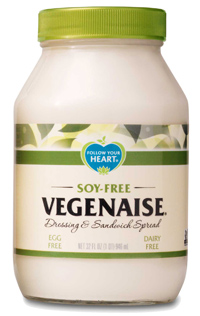 I wanted the mayo for my daughter who is allergic to eggs and intolerant to soy. The funny thing is that since she is 6 years old and has never had mayonnaise, she is not accustomed to it. Someone who discovers their allergies or intolerance later in life wants to find replacements for the things he/she used to eat. Although my daughter is not very interested in it, I think I could use it to widen her food choices with mayonnaise dip for veggies, or maybe she'll take to tuna salad.  (I never did!) Or, maybe it's just nice to have it in case she ever feels deprived when we're all dipping our artichokes in mayo.
It's great that companies are making products for people with food allergies. I know I'm lucky that I live in area where I can find a wide selection of specialty items. For those living in other parts of the country, it can be so difficult. Ask at your grocery store to see if they can get the products you need.
Soy-Free Vegenaise Dressing and Sandwich Spread is a refrigerated item. The ingredients are: Expeller-pressed Hi-Oleic Safflower Oil, Filtered Water, Brown Rice Syrup, Apple Cider Vinegar, Pea Protein, Sea Salt, Mustard Flour and Lemon Juice Concentrate.
For more information about Vegenaise, go to www.followyourheart.com (you may not see this product on the website yet) or call 1-888-394-3949.
Does anyone have any good recipes that use mayonnaise?