Must-Have Gluten-Free Diet Resource Guide (Win Stuff Wednesday!)
Posted on April 6th, 2011 by Alison
Read 30 Comments - Add Your Own »
Whether you are new to the gluten-free diet, or you've been at it a while, Shelley Case's Gluten-Free Diet A Comprehensive Resource Guide is an essential book to have at your fingertips.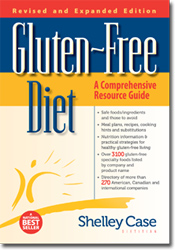 It is truly a comprehensive guide, including detailed ingredient explanations, nutritional concerns and nutrient analysis of gluten-free food, strategies and meal planning for healthy eating, cooking tips and recipes, and gluten-free product and company lists. No matter what your level of gluten-free awareness, you will learn from this book! It might even become your best friend! 🙂
Shelley Case is a registered dietitian, is on the Medical Advisory Boards of both the Celiac Disease Foundation and the Gluten Intolerance Group, and is recognized as the nutrition expert on the gluten-free diet. She has authored many articles in addition to her book and is an excellent speaker on the topic (I just got the chance to hear her last month), and she is also a really nice and generous person!

Shelley is giving away copies of her book to TWO winners for this week's Win Stuff Wednesday. Win it for yourself or for someone you know. Just leave a comment telling what you or your loved one or friend find the most challenging about the gluten-free diet. The giveway ends on Friday, April 8 at midnight PST. I will randomly choose two winners and announce them in the comments.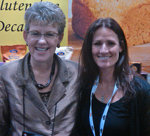 For more wonderful resources from Shelley Case, visit her website, www.glutenfreediet.ca.