Probiotics and Gluten Intolerance/Celiac Disease
Posted on April 14th, 2011 by Alison
Read 2 Comments - Add Your Own »
Bacteria – your gut is full of it! But wait, before you call the doctor for antibiotics, you need to know that not all bacteria are bad. In fact, the "friendly" bacteria that reside in your gut are vital to maintaining a healthy digestive system, and amazingly and perhaps most importantly, a healthy immune system.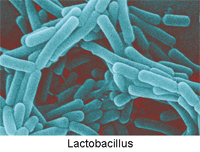 Unfortunately, the intestinal flora in many people's digestive tracts are out of balance, with not enough of the good bacteria. Why the decrease in beneficial gut bacteria? It seems the way we live in our modern society is contributing to the imbalance. Consider some of the following theories as to why:
The use of antibiotics has killed off the good bacteria in addition to the bad.
The sterilization of our society – hand sanitizers and antibacterial cleansers – has eliminated the good bacteria along with the bad.
The decreased consumption of cultured and fermented foods like kefir and sauerkraut, means we are not consuming as many probiotics in our diets as we used to.
The increased consumption of whole or processed grains that have not been soaked, sprouted or fermented first has eliminated a source of prebiotics, which feed the good bacteria.
Processing and pasteurization of foods destroys any beneficial bacteria that may naturally occur in the foods.
C-sections and formula feeding changes the microflora of infants, possibly contributing to food intolerance and allergies.
Given the pace of our society today, it is unlikely that any of the above behaviors will change, so people are going to continue to have this bacterial imbalance.
If you have gluten intolerance or celiac disease like me, your gut flora may especially be out of whack. WANT TO READ THE REST? Go over to Attune Foods, where you will read some research on probiotics and celiac disease, and also get some advice on probiotics from Certified Nutritionist Sheila Wagner. Go to rest of article on probiotics… and please leave a comment over there!