Allergic to eggs? Watch out for this sorbet…
Posted on May 9th, 2011 by Alison
Read 3 Comments - Add Your Own »
I thought all sorbet was safe for my egg-allergic daughter, until we were at my friend Kelly's house for dinner and discovered otherwise. Kelly had thoughtfully purchased sorbet to serve for dessert, knowing it was gluten-free and dairy-free, and didn't even think to check the ingredients for eggs. I only looked at the label out of habit, and certainly didn't expect to find eggs in sorbet either!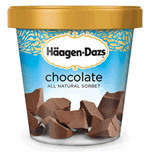 Sure enough, the Chocolate Sorbet made by Haagen Dazs has egg whites in it! I knew to watch out for Haagen Dazs ice cream — I think every flavor contains egg yolks, but the Chocolate Sorbet is the only sorbet flavor that contains eggs.
If you are looking for chocolate sorbet without eggs, try Ciao Bella Dark Chocolate Sorbet, Double Rainbow Chocolate Sorbet, or Sharon's Dutch Chocolate Sorbet. Honestly, I think Haagen Dazs is the only sorbet made with eggs.
I love these choices also for dairy-free and egg-free chocolate frozen desserts:
Coconut Bliss Dark Chocolate Bars
So Delicious Organic Minis Fudge Bar
Let this article serve as a reminder to always read labels! (Whew — that was a close one!)