Gluten-Free Potstickers
Posted on May 6th, 2011 by Alison
Read 5 Comments - Add Your Own »
Yes, you heard me right — gluten-free potstickers! One of the things I miss most being gluten-free is eating Chinese food. Even if you avoid the obvious wheat-based foods, Chinese restaurants are challenging  due to the soy sauce used in most dishes. I recently had the pleasure of trying the new Gluten-Free Handmade Asian Style Dumplings made by Feel Good Foods. The verdict? Delicious!! It was such a treat to taste a potsticker again!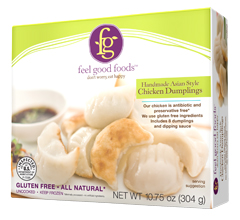 The gluten-free dumplings come in vegetable, chicken, pork and shrimp, and each are accompanied by a yummy gluten-free dipping sauce. And no MSG.
Vanessa Phillips, the founder of Feel Good Foods, has celiac disease. Her husband and partner, Tryg Siverson, is a chef. So you can see why they were able to make a great product!
Here are the ingredients of the chicken dumplings:
Wrapper: sweet rice flour, water, potato starch, rice flour, soybean oil, salt, xanthan gum, corn starch
Filling: chicken, cabbage, sesame oil, green onion, sugar, salt, garlic, ginger, cilantro,  yeast extract, black pepper
Dipping Sauce: wheat free tamari (water, organic soybeans, salt, organic vinegar), sugar, white vinegar, ginger, garlic, and ground black pepper
Where to find these darling dumplings? Good news for you on the East Coast (they are based in New York), but for me on the West Coast, I'm outta luck! (For now — I am sure they will make their way here.) Consult the list of where to buy or order from Gluten Free Mall (be aware that these are shipped frozen, so higher shipping charges will apply).
Maybe someday we'll get Won Tons and Fortune Cookies too!