The emotions of dining out gluten-free
Posted on June 15th, 2011 by Alison
Read 23 Comments - Add Your Own »
Dining out on a gluten-free diet can be challenging because gluten is present in a lot of foods, but something that doesn't often get addressed with the topic of dining out is what is happening before the gluten-free diner even walks into a restaurant. I'm talking about EMOTIONS.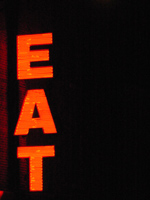 Our emotions are something that set us, the gluten-free diners, apart from other diners. While other customers are thinking about their dates, or admiring the art on the walls, or taking in the smell of fresh bread as they walk in the door, I'm hoping there's something at the restaurant I can eat. I'm wondering whether or not this restaurant is going to understand what gluten-free means. If I'm with a group, I'm dreading having to once again explain that I can't share dishes with everyone.
Gluten-free diners come in to the restaurant with a variety of emotions:
Anxiety – Will there be something I can eat?,
Nervousness and Fear – Will I get sick (again)?
Embarrassment – Will my friends think I'm a pain? Will they say sorry to me every time they eat a bite of something I can't have?
Sadness or Anger or Resentment, depending on when they were diagnosed or how well they are dealing with their new diet — Why can't I enjoy the freedom that everyone else can? Why can't the restaurant make this easier for me? Why me?
And let's not forget Hunger! The hungry gluten-free diner may have to wait even longer if everyone at the table is eating bread. There have been times when I am so hungry that by the time my dinner comes, I eat everything on my plate — and people look at me at the end of the meal as though I've eaten so much! They've forgotten that they've eaten a half a loaf of bread before the meal even started.
All these emotions just to go out to eat! While most people find it easier to go out to eat than cook at home, the gluten-free diner often chooses to stay at home because it is easier than dining out.
Our love of good food and dining and socializing can triumph, however, and when we do find restaurants we trust, restaurants that have a gluten-free menu, and restaurants that understand our needs, we can begin to let go of the anxiety and those other negative emotions, and truly enjoy our food and our entire dining experience. This is what we want restaurants to understand about us: If they can make us feel comfortable and can earn our trust, we will be there and we will be loyal, and we will bring our family and friends too, and we will spread the word.
What emotions do you have when dining out gluten-free?