Æbleskivers Gluten Free
Posted on December 13th, 2012 by Alison
Read 1 Comment - Add Your Own »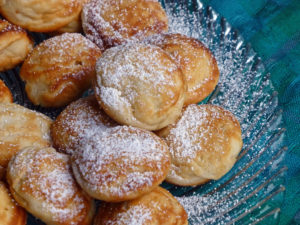 ̠ble Рwhat? ̠bleskivers: a sphere-shaped Danish pancake. When my daughter had a Heritage Feast at her school, we were asked to bring in a food that had meaning to our family. Since my grandmother is 100 years old, I thought we should honor her with a dish from Denmark.
I borrowed her cast-iron Æbleskiver pan and set out to make — you guessed it — gluten-free Æbleskivers! When we called my grandmother to discuss, she confirmed that "Oh, yes!", she used to eat Æbleskivers as a child growing up with her Danish grandparents and ate them either with jam or powdered sugar.
To hear my daughter have this conversation with my grandma was the best part of this whole experience, and the second best part was my daughter's excitement to make the Æbleskivers. The third best part was that they turned out great and we loved them!
So, I bring to you: Gluten-Free Æbleskivers!
Gluten-Free Æbleskivers
Ingredients:
2 cups gluten-free flour (I used Pamela's Artisan Flour Blend)
2 teaspoons baking powder
1 tablespoon sugar
1/2 teaspoon baking soda
1/2 teaspoon salt
2 eggs, separated into yolks and whites
4 tablespoons butter, melted
2 cups buttermilk
extra butter for frying
Directions:
In a bowl, combine flour, baking powder, sugar, baking soda and salt.
Add in egg yolks, melted butter and buttermilk and beat until smooth.
In a separate bowl, beat or whisk the egg whites until they form a stiff peak (it is best to use cold eggs), and then fold the egg whites back into the flour mixture.
Heat Æbleskiver pan until medium hot and put a pat of butter into each well.
Put about two tablespoons of batter into each well. When the bottom is browned, turn the ball of dough so the other side can get browned. Be patient — if you try to turn it too early, it will result in a doughy mess. The browner it gets, the easier it will be to turn. People used to use knitting needles to turn the dough… I used a wooden skewer.
When both sides are browned, remove the Æbleskiver to a plate.
They are best served warm, dipped in jam or sprinkled with powdered sugar. There are many variations also — some people stick a piece of apple in the middle when it is half-way done cooking, others use applesauce, Nutella, banana — really anything you like!