Food-allergy-friendly (and healthy) lunch box options for kids
Posted on August 19th, 2013 by Alison
Read 3 Comments - Add Your Own »
When you have a child with food allergies, you can't rely on any school-supplied lunches, if any are even offered. You have to make lunch every day. Any mom who packs lunches can relate to the morning drill of hoping you've done enough grocery shopping to find enough food to put in your kids' lunchbox that day, while also trying to make it healthy and desirable. I feel a sense of failure when I open a full lunchbox at the end of the day!
Over the years I have figured out how to make my kids' lunchboxes to come back empty rather than full. When you are dealing with food allergies, you have to think outside of the (lunch)box! No PB&J sandwiches, Goldfish or cheese sticks to fall back on. My kids and I have figured out lunch options that make me and them happy. That's not to say I don't strike out sometimes, but I thought I'd share some of our successes and hope these might work for you, or at least spark some ideas.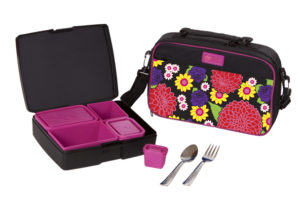 I can't say enough how important it is to have a good lunchbox — one with compartments that show the food. What food is appetizing served in plastic baggies and aluminum foil? Plus, the whole no-waste thing is a bonus! I love Laptop Lunches and my kids have been using them for years. When a child opens the lunch, the entire lunch is displayed at once. It is really convenient and appetizing and there is even a fork and spoon — imagine eating with utensils!
Whichever lunch box you choose, the next step is to fill it up! Aim for variety and try to cover all of the food groups. I always put protein along with the filler food (carbs), some fruit and a veggie. And yes, I put a little treat of some kind! I didn't used to, but I realized that it just makes my kids so much happier when there is a little sweet surprise — and I do mean little — a small cookie, a little pack of gummy candies, a homemade mini muffin.
If your kid likes a sandwich, go for it! There are now many kinds of gluten-free breads to choose from, vegan mayonnaise and allergy-free lunch meats. My kids are currently not crazy about sandwiches so I have had to come up with other options. Here are some of the things I have packed over the years:
Gluten-free pretzels with Sunbutter – pack Sunbutter in a dipping container
Apples with Sunbutter
Rice crackers or tortilla rounds or strips with hummus
Tortilla chips with refried beans as bean dip – try Amy's Organic Traditional Refried Beans – it is not spicy at all and has a good mild flavor that kids like
Raw veggies – sometimes on Sunday, I wash and cut into matchsticks or rounds cucumbers and carrots. I store them with snap peas or any other veggie that the kids like in a sealed container in the frig and then when making lunches in the morning, I ask my kids to choose from the veggies for their "veggie compartment." I have read about some supermoms that put a green salad in their kids lunches. There is no way my kids would eat a salad at lunch! But this veggie method has worked so far for us. Also, if the veggies seem a little dry because you have cut them days before, just sprinkle a little water on them.
Cooked veggies – I have gotten away with putting leftover green beans and broccoli (as long as they are not overcooked) in my older daughter's lunchbox. Sometimes you have to take a risk! 🙂
"Breadsticks" – my kids got tired of sandwiches, so I made breadsticks by toasting the same gluten-free sandwich bread and cutting it into strips – this is great for dipping in hummus or sunbutter, or even just plain. Change the shape and it's a whole new food!
Fruit – okay, this seems obvious, but let's face it — sometimes there's no fresh fruit left in the house! Berries, grapes, watermelon and apples are the fresh fruits my kids like, but I always have a back-up of canned pineapple chunks (the natural kind – no sugary syrup) and serve with a fork. The kids love it. If you can fit the pineapple rings in the lunchbox, that's a big hit also! Other fresh-fruit replacements include applesauce (don't forget the spoon!), frozen mango, and I bet those cute little mandarin orange slices would make them happy too – I haven't tried those yet.
Protein sources – the beans, hummus and Sunbutter mentioned above are some. My kids like lunch meat, so I will include all-natural salami, or turkey or chicken breast. Try rolling it up and securing with a toothpick ("turkey rolls"), or with rice crackers. Since nuts are a common allergen, you might try seeds like shelled pumpkin seeds or sunflower seeds — Enjoy Life makes a trail mix of seeds, dried fruit and chocolate chips, or you could make your own.
Hopefully, this list has helped you get some new ideas. I would love for you all to share what you pack in your kids' lunches! I could use some new ideas too!