A Gluten-Free Pep Talk For the Holidays
Posted on November 12th, 2013 by Alison
ADD A COMMENT »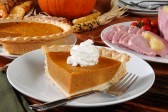 Holidays can be a stressful time even without special dietary restrictions – people are dealing with family, travel, expenses, and cooking for guests. Add in a gluten-free diet, or a gluten-free-plus diet and it can make for some challenging moments. When you are the host of a holiday meal or event, you are in control of your menu, but if you are the guest with a restricted diet, a holiday event can stir up a myriad of emotions. I was diagnosed 11 years ago right between Thanksgiving and Christmas, and I remember what it was like to be surrounded by food but feel like there was nothing safe to eat.
Whether you are new to the gluten-free diet or have been doing it for years, you may experience any of the following emotions as a guest at a holiday event:
Anxiety

Will there be something I can eat? Will there be anything I can eat?
This anxiety causes many people to just stay home!

Fear

Will I get sick… (again)?
Fears about cross-contamination can get in the way of any enjoyment of a meal.

Embarrassment

Will my friends and family think I'm a pain? What if they made me something special and I have to ask about the ingredients or cross-contamination? Will they apologize again and again that they are eating something that I can't eat?
Sometimes you just want to disappear!

Sadness or Anger or Resentment

Why can't I enjoy the freedom that everyone else can? How can I enjoy this meal if I can't have Aunt Susie's famous pumpkin pie?

Hunger!

This may just be a psychological hunger, as there may be enough food to eat, but it feels like there is so much that you can't have.

Kids emotions may be intensified:

Quote from my daughter: "It's hard because you walk into someone's house and there's all this good stuff all around that you can't have and you can only have the other stuff like turkey and vegetables."
I want to tell you a little story about one of my emotional moments…

I was out at a dinner recently in Las Vegas for a work event. I was with a table of about 14 people I didn't really know at a restaurant that I was told was a Thai restaurant called Jasmine in the Bellagio, so I felt confident that there would be something I could eat. After we got the menus I realized that it was in fact a Cantonese restaurant and when I asked the waiter what I could have on the menu, I was told that there was only one dish that I could have. While everyone else was ordering appetizers, and plates to share, I felt so uncomfortable and was overcome with this feeling that I was going to cry.
I was then mortified that I, a grown woman, would cry in front of all of these people, and what would they think of that?? So I had to have a self-coaching moment – you know, when you're like:
"C'mon – pull yourself together! You can do it. It's just one meal. You're going to get through this. Do not cry. Do not cry!"
I had to look down, pretend I was doing something on my phone for a minute, and gather myself. It turned out that the one dish on the menu that I could have was delicious and… imagine… I had a fun time enjoying the non-food part — the company of the people at the table and the view of the dancing fountains of the Bellagio out the window.
So if you find yourself in one of those tough moments this holiday season (or ever after), try to find your Inner Coach to help you get through.
Maybe you need this kind of coach: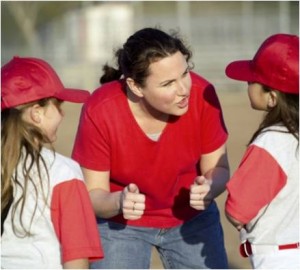 Or someone a little more smiley :):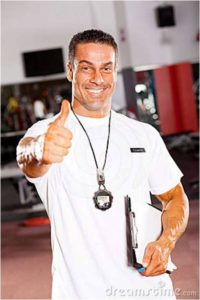 Or maybe you really need this guy!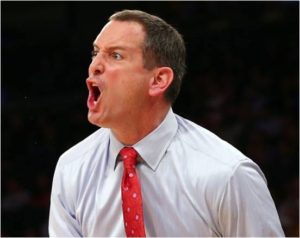 Whichever one works for you, use that Inner Coach to guide you when you have feelings of despair. Instead of focusing on what you can't have, find what you can eat, and get enjoyment from things other than the food. Rather than stand around the appetizer table, have a conversation with an elderly family member. If you can't nibble from the dessert tray, play with the kids or hold a baby or look through photo albums… and don't forget to appreciate the dancing fountains outside the window!
Happy Holidays! 🙂
See also: 13 Gluten-Free/Allergen-Free Tips for the Holidays