Tomatina Restaurant offers gluten-free options
Posted on February 22nd, 2015 by Alison
ADD A COMMENT »

Tomatina Restaurant, which describes itself as "fresh italian," offers many gluten-free options on their regular menu (marked with GF). I recently tried this casual dining restaurant with my kids and another family. Everyone found something to eat and enjoyed their meals.
The gluten-free pizza is made on crusts from Mariposa Baking Company in Oakland. Be prepared to pay almost $6 more for a personal gluten-free pizza than a personal wheat pizza. I do wish restaurants would realize that we brought six people to eat because they offer the GF pizza, so they are making up for the cost of the gluten-free pizza in the other meals and drinks we ordered. But I'm not complaining — I was happy to have a place we could all go. The restaurant takes precautions with regards to cross-contamination by baking the gluten-free pizzas on pans rather than on the floor of the pizza oven.
The gluten-free pasta options are from Heartland and Barilla — both are a blend of corn and rice. I didn't try any of the pasta dishes (since I had already eaten a giant bag of popcorn at the movies right before!) Gluten-free pasta can be substituted for almost all of the pastas for an extra $2 and they use separate water to cook the pasta (you'd be surprised how many places use the same water to cook regular and gluten-free pasta — always ask!)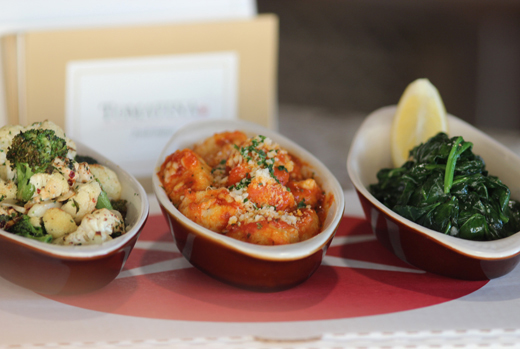 I did have the gnocchi, which are little dumplings served like pasta in tomato sauce. Though gnocchi is made of potato, they are almost always also made with flour and therefore not gluten-free. But at Tomatina, they are gluten-free, and they were very tasty! My friend and I ordered the gnocchi as part of "3 sides for $13" with two vegetable dishes. We really enjoyed each one. (Photo above is taken from the Tomatina website — gnocchi is in the middle.)
I will definitely be back to the San Rafael location — it is an easy and affordable place to go with kids, but nice enough to have a glass of wine with your meal. They also have restaurants in Alameda, Dublin, San Jose, San Mateo, Santa Clara, Walnut Creek and one opening in Union City.