Orgain Nutrition Shake, a healthy alternative to Ensure
Posted on May 14th, 2015 by Alison
Read 6 Comments - Add Your Own »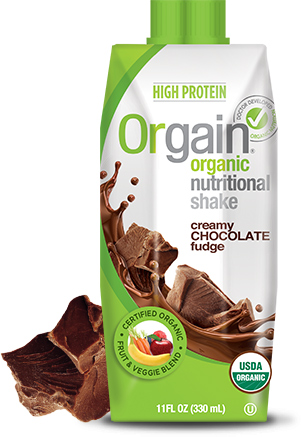 My younger daughter (8 years old) recently had a piece of food get stuck in her throat. She was shaken by the event more than I realized, and she had trouble eating. I thought that her anxiety would pass more quickly than it did and that she would begin eating normally, but a day turned into three, and the doctors found ketones in her urine.
I learned that ketones in urine can indicate that a person isn't getting enough calories or nutrition. I knew she needed more calories, but she was refusing to eat foods with any texture at all. The doctor recommended that she drink Ensure, the most popular brand of nutrition shakes. I headed to the pharmacy, read the ingredients on the cans of Ensure, and thought to myself, "I am not putting this crap in my baby."
A trip to Whole Foods and a talk with the employee in the vitamin aisle led me to Orgain, a brand of a nutrition shakes with all natural, organic ingredients. I was so relieved to find this product and over the next few days, these shakes were a life-saver for my daughter. These got her through the psychological hump from only being able to drink liquids and eat soft foods, to introducing foods with texture back into her diet. It has been three weeks since she choked, and she is still not back to eating all the foods she used to. She still likes to occasionally drink the "chocolate milk" (Orgain Creamy Chocolate Fudge nutritional shake) and now I use the vanilla Orgain as a base in smoothies for both of my children.
I have no personal stake in this brand — I just thought I would share this information in case someone else is ever advised to drink Ensure. There is a healthier alternative! Once I read about the founder, a cancer survivor and doctor, I felt even better about my choice.
Compare the ingredients…
Ensure Original Milk Chocolate:
Water, Corn Maltodextrin, Sugar, Milk Protein Concentrate, Soy Oil, Soy Protein Isolate, Sucromalt, Cocoa Powder (Processed with Alkali), Canola Oil. Less than 0.5% of the Following: Corn Oil, Magnesium Phosphate, Potassium Citrate, Cellulose Gel, Natural & Artificial Flavor, Potassium Chloride, Sodium Citrate, Calcium Phosphate, Calcium Carbonate, Salt, Choline Chloride, Ascorbic Acid, Cellulose Gum, Monoglycerides, Soy Lecithin, Carrageenan, Potassium Hydroxide, Liquid Sucralose, Ferric Orthophosphate, dl-Alpha-Tocopheryl Acetate, Acesulfame Potassium, Zinc Sulfate, Niacinamide, Manganese Sulfate, Calcium Pantothenate, Cupric Sulfate, Vitamin A Palmitate, Thiamine Chloride Hydrochloride, Pyridoxine Hydrochloride, Riboflavin, Folic Acid, Chromium Chloride, Biotin, Sodium Molybdate, Sodium Selenate, Potassium Iodide, Cyanocobalamin, Phylloquinone, and Vitamin D3.
Orgain Organic Nutrition Shake Creamy Chocolate Fudge:
Water, Orgain Organic Protein Blend (Organic Whey Protein Concentrate, Organic Grass Fed Milk Protein Concentrate), Orgain Organic Carbohydrate Blend (Organic Evaporated Cane Juice, Organic Brown Rice Syrup, Organic Rice Syrup Solids), Organic High Oleic Sunflower Oil, Organic Cocoa, Organic Inulin, Organic Guar Gum, Organic Arabic Gum, Xanthan Gum, Organic Rice Bran Extract, Sodium Phosphate, Tricalcium Phosphate, Potassium Citrate, Potassium Chloride, Carrageenan Gum, Sea Salt, Organic Stevia
Orgain Vitamin Blend: Tocopherol Acetate, Sodium Ascorbate, Zinc Gluconate, Niacinamide, Calcium Pantothenate, Copper Gluconate, Vitamin A Palmitate, Thiamine Hydrochloride, Pyridoxine Hydrochloride, Riboflavin, Folic Acid, Biotin, Potassium Iodide, Cholecacalciferol, Cyanocobalamin, Magnesium Sulfate
Orgain Organic Veggie Blend: (Organic Kale, Organic Beet, Organic Spinach, Organic Carrot, Organic Tomato) 50mg.
Orgain Organic Fruit Blend: (Organic Blueberry, Organic Banana, Organic Acai, Organic Apple, Organic Raspberry) 50mg.
All Orgain products are gluten-free, soy-free, organic, and non-GMO. The regular shakes have dairy, but there is a line of vegan shakes also.