Gluten-Free in Hawaii (Maui and Kauai)
Posted on July 23rd, 2015 by Alison
ADD A COMMENT »
On a recent trip to Hawaii, I was so pleased to find that almost every restaurant we went to had a menu with a GF symbol next to each menu item, had a separate gluten-free menu, or had a knowledgeable person taking our order (never a blank stare). In general, the restaurants in Hawaii are expensive. I'm sure locals have places they go, but we didn't really go off the beaten path this trip. What I was impressed with was the Keiki (children's) menus. Many went beyond the usual chicken fingers and french fries to include fresh fish, steak, fresh fruit and other healthy options at a reasonable price.
MAUI
Mama's Fish House
When we arrived on Maui, our first stop was Mama's Fish House, a longtime favorite spot of my husband's family. Just as the name indicates, Mama's serves fresh fish, brought daily to the restaurant by local fishermen. The menu can change during the day depending on what fish comes in. Even though they do not have a gluten-free menu, the staff is very knowledgeable about their dishes. Our server was also great about my daughter's multiple food allergies and pointed out that the purple flower is on the plate to indicate that it is a special dietary accommodation. Two dishes I loved that were recommended by our server were:
Beef Polynesian — seared tenderloin in a grilled Hana papaya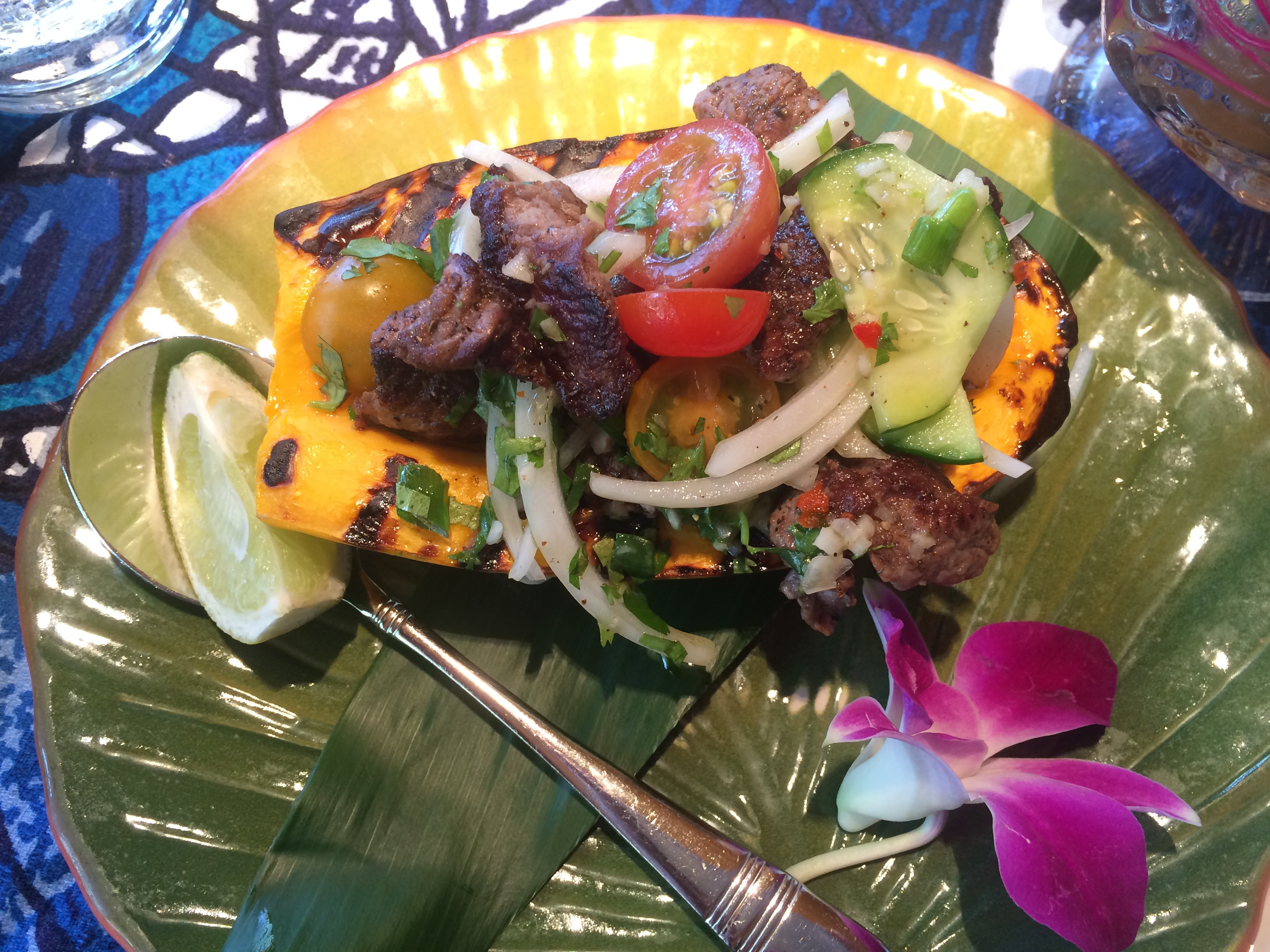 Ono (a local Hawaiian fish) marinated in Tahitian lime and coconut milk, served in a coconut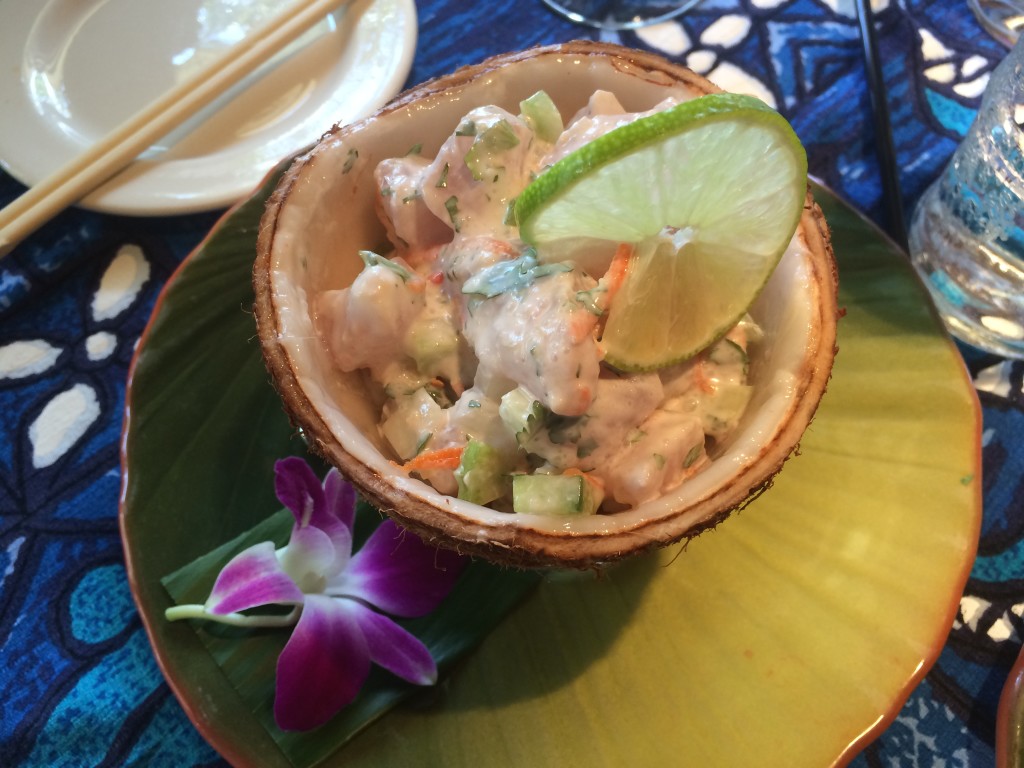 Maui Whole Foods
From there we headed to Napili, on the northwest side of Maui, where we stayed in a condo with kitchen. On the way, we made a stop at the Maui Whole Foods to stock up on some basics like GF bread, rice cakes, cheese, fruit and other snacks. There are a few other natural foods markets in the area also that carry gluten-free foods.
Maui Sugar Shop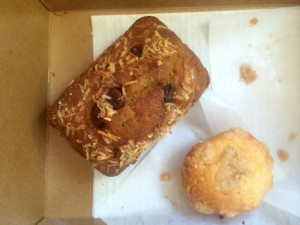 Maui Sugar Shop is an entirely gluten-free bakeshop on Maui! The owners, Zane and Cynthia (shown below with me in their shop), are so friendly and their baked goods are delicious. They use all natural, organic, locally-grown, non-GMO ingredients like liliko'i (passionfruit) in the muffin and banana in the mini banana and chocolate loaf shown in the picture. My daughter with multiple food allergies was able to get something also — an oatmeal cookie whoopie pie with cinnamon frosting!
Sea House, Kimo's, Hula Grill
We ate many meals at Sea House Restaurant, located on Napili Bay. They have a gluten-free menu for every meal with many options. Because we were staying there, kids (12 and under I think) ate free at every meal! The food was good and easy for us during the day on the beach when we didn't feel like getting in a car. When we did venture out with the entire family (9 of us), we went to the well-known Hula Grill in Ka'anapali and Kimo's in Lahaina, which both also had GF markings on their menu. It seemed that most places had gluten-free tamari if you asked (the common brand was Yamasa).
Tobi's Shave Ice (and Ahi Poke!)
Shave Ice is naturally gluten-free and allergen-free and a common treat all over Hawaii. A friend recommended Tobi's Shave Ice in Paia so we stopped in on a very hot day. The shave ice really was good — the texture of the ice was very light and the syrups were also light and flavorful (much lighter than some other shave ice places that have thick sugary sweet syrups like you put on a snow cone). I actually craved Tobi's shave ice later in the trip! But the best part of Tobi's was the fresh ahi poke that I was surprised to find there. Made to order, the poke is a combination of fresh, raw ahi tuna with a variety of additions, like tamari, sesame oil, seaweed, Maui onions, hot chili sauce, and roasted crushed kukui nut. Not all the combinations are gluten-free, but the woman making the poke was very knowledgeable and made me a GF version. She even packed it with ice packs for me to keep it as fresh since we had to drive about an hour back to the condo. My husband and I ate it for dinner that night with brown rice on the side and the GF crackers we had.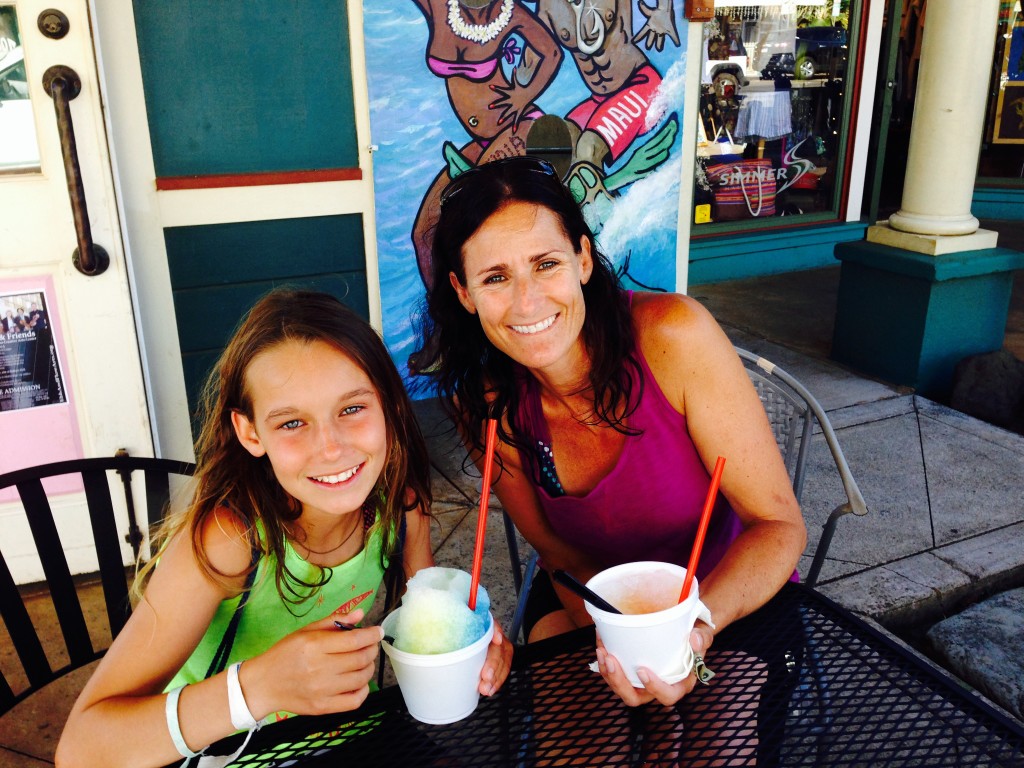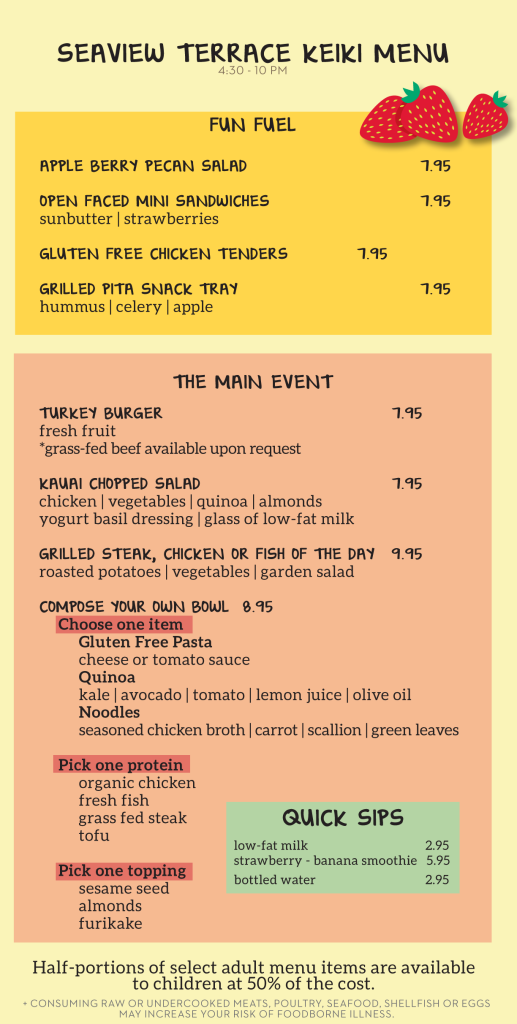 KAUAI
Grand Hyatt Poipu
We were only in Kauai for a few days, and stayed on the south shore in Poipu.
At the Grand Hyatt, every menu is marked with "GF" – there is a great children's menu on the Seaview Terrace and room service that includes gluten-free chicken tenders and gluten-free pasta that comes with a protein (my daughter chose grass-fed steak and it was delicious!)
Also at the Grand Hyatt is a restaurant called Tidepools, which was where my husband and I had our only date night of the trip. It is a pretty setting on the hotel's "lagoon" which is filled with koi fish. The food was really good and our waiter was very knowledgeable, friendly and accommodating. They offered us GF bread at dinner, which was Udi's and though I am not a huge fan of Udi's and have gotten used to not eating bread before dinner, it did really hit the spot at that moment with the delicious butter they served with it!
Aloha Aina Juice Bar
Acai Bowls, Juices and Smoothies can be found at the Aloha Aina Juice Bar located inside the Kukui'ula Grocery Store in Koloa.
Da Crack
If you are craving Mexican food in Hawaii, then make a pit stop at Da Crack. I am pretty spoiled when it comes to Mexican food so I thought the food was average, but if you are really hungry and looking for a fast casual meal, which is what we were looking for after a morning at Waimea Canyon, then I would say try it out. You order at the counter which is pretty much a crack in the wall, and there is only a nearby bench to sit on… we ate in the car. I got a bowl with pork, my husband and daughter got tacos and my other daughter requested quesadillas made with corn tortillas. Everything was gluten-free except the flour tortillas for the burritos.
The Beach House Restaurant
Although I wasn't terribly impressed with the lunch at The Beach House (am I hard to please, or what?), they did have a separate gluten-free menu and the view of surfers was really fun. Right next to the restaurant is a good snorkeling spot, so it was a convenient place to eat before we ventured out to peer at the fish. There is supposed to be a very nice view of the sunset at dinnertime. I have a feeling the gluten-y things on the menu might be better than the gluten-free items… at least that's what our server told me many times. I would probably go back and give this place another chance.
Have you been to Hawaii? Where did you eat? Please share your recommendations!