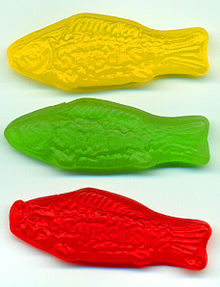 This is a quick list of allergen-free Halloween candy for 2015. This list includes candies that do not contain gluten or the top 8 allergens (wheat, milk, soy, eggs, peanuts, tree nuts, fish or shellfish) as an ingredient. I have listed coconut separately since I don't consider it a tree nut (nor do most allergy organizations), but I recognize that there are coconut allergies. I also listed sesame if stated on the label (sesame is becoming a more common allergen). If there is an allergen warning on the package, I included it.
For the complete listing of allergens and company statements see the Halloween Candy Ingredient Guide 2015 for Gluten & Food Allergies.
For a quick list of candies that are gluten-free, see the Gluten-Free Halloween Candy Quick List 2015.
For a list of natural and organic candies, see the Natural & Organic Halloween Candy List 2015.
Note: Please, as always, double check ingredients. This list is meant as a guide only.
NOTE for bloggers/organizations/media: Please do not reprint this list without my permission. Linking to it, however, is just fine and dandy! Printing is encouraged for personal use or for schools, etc. I appreciate your consideration of my work.
AIRHEADS
Airheads Bites

Ingredients contain: coconut oil
ALBERT'S
Halloween Iced Pops (orange with iced pumpkin, purple with iced witch)
ANGIE'S BOOMCHICKAPOP
Kettle Corn – Sweet & Salty
CE DE CANDY (Smarties) (located in New Jersey 908-964-0660)
Smarties, Giant Smarties, Mega Smarties, Theater Box Smarties, Candy Money, Love Hearts, Smarties in a Pouch, Tropical Smarties, X-TREME Sour Smarties, Easter Smarties, Smarties Parties, Smarties Double Lollies, Smarties Mega Lollies, Smarties Mega Tropical Lollies, Smarties Pops, Giant Smarties Pops, Smarties Creme
CONCORD CONFECTIONS
Package statement: "may contain milk and soy"
FERRARA CANDY COMPANY
Black Forest Mini Gummy Bears, Black Forest Gummy Worms, Little Monsters Fruit Snacks

Ingredients contain: coconut oil
Package statement: "This product was manufactured in a facility where milk, eggs, tree nuts, peanuts, wheat and soy are used in the production of other products."

Brach's Candy Corn Classic, Brach's Candy Corn Mini, Brach's Apple Pie Candy Corn, Brach's Caramel Macchiato Candy Corn, Brach's Fruit Cremes Candy Corn

Ingredients contain: sesame oil
Package statement: "This product was manufactured in a facility where milk, eggs, tree nuts, peanuts, wheat and soy are used in the production of other products."

Brach's Pumpkin Spice Candy Corn

Ingredients contain: sesame oil
Package statement: "This product was manufactured in a facility where milk, eggs, tree nuts, peanuts, wheat and soy are used in the production of other products."

Brach's Mellowcreme Pumpkins

Ingredients contain: sesame oil
Package statement: "This product was manufactured in a facility where milk, eggs, tree nuts, peanuts, wheat and soy are used in the production of other products."

Jujyfruits, Jujubes

Package statement: "This product was manufactured in a facility where milk, tree nuts, peanuts, wheat and soy are used in the production of other products."

Super Bubble Gum

Package statement: "This product is produced in a facility where egg and soy are used in the production of other products."

Trolli Gummi Bears, Trolli Sour Brite (Frite) Crawlers, Sour Brite Eggs, Extreme Sour Bites

Package statement: "This product was manufactured in a facility where milk, tree nuts, peanuts and soy are used in the production of other products.

Lemonhead, Chewy Lemonhead and Friends, Tropical Chewy Lemonhead and Friends, Applehead, Grapehead, Cherryhead, Redhead Chewy

Package statement: "This product was manufactured in a facility where milk, eggs, almonds, Brazil nuts, coconut, peanuts and soy are used in the production of other products."