Rice cheese (dairy-free and soy-free!)
Posted on July 9th, 2008 by Alison
Read 26 Comments - Add Your Own »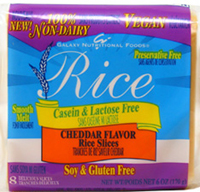 I was skeptical… vegan rice cheese? Surely it won't melt, and will probably taste weird too. But the prospect of my dairy-free soy-free daughter getting to have "cheese" — on tortillas, in a sandwich, on pizza! — was too exciting to pass up, so I bought a pack of sliced cheddar flavor.
I thought I would try a quesadilla first. "Quesadilla?" she asked, her nose in a quizzical wrinkle. "Yes, do you want a quesadilla?" I responded. "You mean… with cheese??" she asked incredulously. "Yes, with a special kind of cheese that you can have." "A special kind of cheese that I can have?" she parroted. Boy, I thought, this better be good after all this!
I put a little oil in a pan, threw in a corn tortilla and let it heat up and soften a bit, then turned it over and laid down a slice of cheddar flavor rice cheese. I doubled the tortilla over and waited… please melt, please melt. I peeked inside the tortilla — it melted! I gave it to her and watched her reaction. "Mmmmmm! I love this quesadilla! I love this cheese!" she emoted as she ate it all… and asked for another. It not only passed the test, but exceeded my expectations. And the best part is that she can have CHEESE.
So where does one find this cheese? It is made by Galaxy Nutritional Foods and can be found in various locations, including Whole Foods (you can look up your area here). Be careful though — there are 2 different rice cheeses and one has casein milk protein in it. I don't understand why they would put casein in a rice cheese — isn't anyone buying rice cheese doing so because they don't eat dairy? Anyway, make sure you buy the one that says "Vegan" and "Casein and Lactose Free" on it.
Update 7/20/08: My friend said her daughter didn't like it. Quesadillas are definitely the best use of the cheese and my daughter still likes them.