Is glucose syrup gluten-free?
Posted on September 2nd, 2008 by Alison
Read 39 Comments - Add Your Own »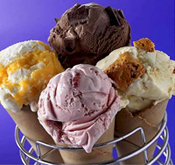 Glucose syrup is a liquid sweetener used in candy, desserts and that ice cream in the picture. It can made from any starch. In the United States, corn is used, but in Europe it is usually derived from wheat. One would assume that the wheat-based glucose contains gluten, but in fact, glucose syrup made from wheat starch is considered gluten-free.
I confirmed this with Shelley Case, the go-to gluten-free dietician and author of Gluten Free Diet: A Comprehensive Resource Guide. In an email to me she said:
Glucose syrup can be derived from a variety of starches including wheat. Corn is the most common however Europe uses wheat more frequently. The glucose syrups are highly processed and purified and R5 elisa tests have found the majority to contain very little residual gluten if any. The European Food Safety put out a report on the safety of glucose syrups. Here is the link for more info:

Based on the FDA proposed gluten-free labeling regulation a product can be derived from a gluten-containing grain such as wheat based glucose syrup and be labeled gluten-free yet the ingredients could say glucose syrup (wheat) provided it is under 20 parts per million (ppm). This will be very confusing for patients as we teach them to avoid wheat and yet a product like glucose syrup may have no or very little residual gluten and be labeled gluten free."
And just this month, a new gluten-free study from Finland was released. In the study they determined that it was safe for celiac patients to consume glucose syrup and other starch hydrolysates derived from wheat. Here is the summary of the report:
Background: Wheat-based starch hydrolysates such as glucose syrups, dextrose and maltodextrins are found in more than 50% of European processed food. These products contain low amounts of residual gluten, and it has been questioned whether they are safe for coeliac disease patients.
Aim: Our aim was to investigate whether coeliac disease patients can safely consume wheat-based starch hydrolysate products.
Methods: This randomized, double-blind, placebo-controlled, prospective follow-up study involved 90 coeliac disease patients in remission randomized to consume glucose syrups, maltodextrins or placebo for 24 weeks. Small bowel mucosal morphology and inflammation, symptoms, coeliac serology and malabsorption laboratory data were evaluated at baseline and at the end of the study.
Results: Daily ingestion of wheat-based starch hydrolysates, glucose syrups and maltodextrins, had no deleterious effect on small-bowel mucosal villous architecture or inflammation in coeliac disease patients when compared to the placebo group. Neither were there any significant differences in gastrointestinal symptoms, serology or malabsorption parameters after 24 weeks.
Conclusions: Wheat-based starch hydrolysates, glucose syrups and maltodextrins did not have harmful effect on coeliac disease patients. Coeliac patients can thus safely continue to consume these products.