Amici's offers gluten-free pizza
Posted on May 11th, 2010 by Alison
Comments Off

on Amici's offers gluten-free pizza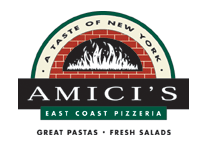 More and more pizza places are offering gluten-free pizza, which is great news for the millions of people with celiac disease and gluten intolerance. Amici's East Coast Pizzeria is one Bay Area chain that has stepped up and offers gluten-free and dairy-free pizza at most of their locations. They are known for their thin-crust pizzas baked directly on a hot brick oven floor, and their gluten-free pizza crust (purchased from Still Riding Pizza in Connecticut), is also thin, and is made on a special elevated surface so that it is not touching the same oven floor as the other pizzas.
Most of their toppings are gluten-free also, so there is a large selection to choose from. They even have a pizza with dairy-free, soy-free cheese (made by Daiya), called the Asante.
Their gluten-free menu is impressive not only because of the number of selections, but because of their awareness. There are notes of caution about ingredients used in the restaurant that are not gluten-free, such as certain toppings and salad dressings. This is a restaurant that is getting it!
Amici's is also very involved in their community and very generous. They donate to many charities and I personally have seen their generosity when they have donated gluten-free pizzas to the Living Gluten-Free classes I teach and to GIG of Marin meetings.
Amici's gluten-free menu is now available at the following locations: Cupertino, Dublin, Menlo Park, Mountain View, Redwood Shores, San Francisco (Lombard), San Rafael, San Jose, and Vacaville.