New dairy-free soy-free cheese alternative
Posted on April 6th, 2010 by Alison
Read 18 Comments - Add Your Own »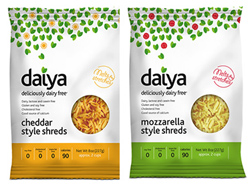 There is a new dairy-free soy-free cheese called Daiya that is just hitting shelves! I like this one better than others I have tried. Does it taste just like real cheese? No — did you really expect otherwise? But it tastes pretty good and it melts!
The vegan cheese is available in Cheddar Style Shreds and Mozarella Style Shreds, and the front of the package says "Melts & Stretches."
The ingredients of the Mozarella Style are:
Filtered water, tapioca and/or arrowroot flours, non-GMO expeller pressed canola and or non-GMO expeller pressed safflower oil, coconut oil, pea protein, salt, vegan natural flavors, inactive yeast, vegetable glycerin, sunflower lecithin, calcium citrate, xanthan gum, citric acid (for flavor), vegan bacterial cultures.
It is gluten-free and soy-free and made in a facility free of animal products, milk, egg, soy and nuts.
Just because it is available doesn't mean that I think people should be eating non-dairy cheese on everything, BUT it is nice to put on a kid's pizza (especially at a birthday party where they want to fit in!) or in a quesadilla or in mac & cheese.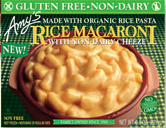 In fact, Amy's Kitchen has a new gluten-free dairy-free soy-free Rice Macaroni with Non-Dairy Cheeze that is using Daiya cheese! Also, in the San Francisco Bay Area, Amici's East Coast Pizzeria uses it as their vegan cheese option on all their pizzas (they also have a gluten-free crust!)
Where can you find the new cheese? Here is a list of locations on the Daiya website. I found both the Daiya cheese and the Amy's frozen mac & cheese at Whole Foods.
Looking for other dairy-free soy-free alternatives? Try these:
Dairy-free soy-free butter
Dairy-free soy-free shortening
Dairy-free soy-free yogurt
Dairy-free soy-free rice cheese
Dairy-free soy-free ice cream
Dairy-free soy-free ice cream (another one)