Snyder's of Hanover Gluten-Free Pretzels
Posted on June 11th, 2010 by Alison
ADD A COMMENT »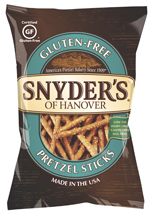 Snyder's of Hanover, known for their pretzels (I used to eat the big fat ones), has introduced Gluten-Free Pretzel Sticks. It is part of their Eat Smart Naturals Line. The pretzel sticks have been certified gluten-free by the GFCO and the bag I bought had a sticker on the bag showing this.
The pretzels are very buttery tasting but they are dairy-free. They are also egg-free, and do not contain soy other than soy lecithin.
INGREDIENTS: Corn Starch, Potato Starch, Tapioca Starch, Palm Oil, Dextrose, cellulose gum, baking powder (sodium acid pyrophosphate, sodium bicarbonate, corn starch, mono-calcium phosphate), salt, citric acid, yeast, soy lecithin, soda.
I don't really eat gluten-free pretzels because I don't want to be eating a bunch of starch, but I get pretzels for my daughters to have once in a while, especially for when other kids have them. We love Glutino pretzels and will continue to buy their brand out of loyalty, but it's nice that these are available also. It also shows that another mainstream company is answering the call for gluten-free food!