Make any cookie festive!
Posted on October 30th, 2010 by Alison
Read 1 Comment - Add Your Own »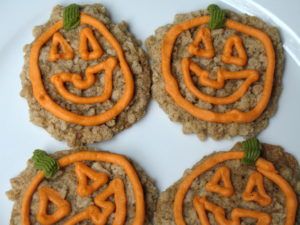 Okay, if you are like me, you don't always (never?) have time to make roll out sugar cookies, cut them into shapes and decorate. Though they are fun, they really are time-consuming. And I still haven't experimented enough to find a reliable gluten-free, dairy-free, egg-free roll out sugar cookie recipe.
What I have been doing lately is make whatever cookie is good (in this case it was oatmeal cookies) and pipe decorations onto them. The kids love them! If you don't own a piping set, you really must get one. It's so easy and fun to make your treats look fancy!
Don't miss the 2010 Halloween Candy lists: