Gluten-Free Egg-Free Latke recipe
Posted on December 9th, 2010 by Alison
Read 5 Comments - Add Your Own »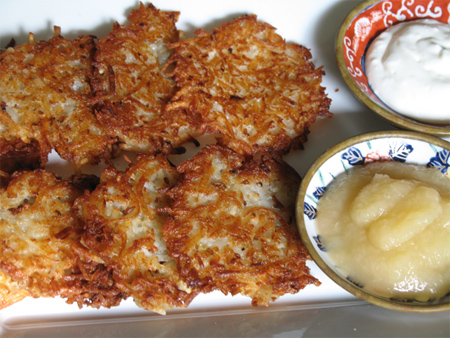 It's the last day of Hanukkah and this morning I found out that my daughter's class would be making latkes. Ugh — eggs. So what does an allergy mom do but rush to the store, rush home and come up with a recipe for gluten-free egg-free latkes of course! I grew up eating latkes, so I was excited by the prospect of making them allergy-free. Searching the web, I came across a recipe called Maxine's Latkes and at that moment I knew that I would be able to create the perfect latkes for my daughter Maxine! And I did. I hope you enjoy them too!
Maxine's Allergy-Free Latkes
Makes about 20 latkes.
Ingredients:
3 large baking potatoes, peeled
1/2 yellow onion
Egg Replacer the equivalent of 1 egg = 1.5 teaspoons Egg Replacer mixed in 2 tablespoons water (or use an egg if you don't have egg allergies)
2 tablespoons gluten-free all-purpose flour — I used Pamela's Gluten Free Bread Mix and Flour Blend
1 teaspoon baking powder
1 teaspoon salt
Oil for frying (I used sunflower oil)
Directions:
Grate the potatoes and the onions. You can use either a hand grater, or if you are lucky enough to have a food processor, use it! It will save you so much time. Be sure to use the shredder blade.
Put the potatoes and onions in a colander in the sink and press out as much liquid as you can.

Meanwhile, combine gluten-free flour blend, baking powder, salt and prepared Egg Replacer in a large bowl. The mixture will thicken. Add a tiny bit of water if it is in a clump and seems too thick to mix with the potatoes, but it shouldn't be too watery either.
Dump the potatoes and onions in the bowl and stir to coat. Try to get the coating on evenly, although it is a little difficult to tell.
Heat oil in a pan on the stove over medium heat. Don't be too skimpy with the oil or your latkes may stick. (I didn't use enough oil for the ones in the pictures below.)
Using a soup-size spoon, drop the potato mixture into the pan and press down with the spoon to flatten it.

Fry in the oil until the bottom turns golden brown or darker if you like, then flip and cook the other side.

Remove from oil when done and drain on paper towels.
Serve the latkes hot with applesauce, sour cream, or any other toppings you like.