Valentine's Day ideas – gluten-free and allergen-free
Posted on February 9th, 2011 by Alison
Read 5 Comments - Add Your Own »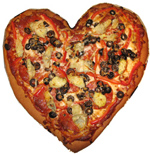 Gluten-Free and Allergen-Free Valentine's Day food and treat ideas so you can enjoy your day of love feeling happy and healthy:
♥ Make a gluten-free Valentine's Day pizza!
♥ Follow the trend of cake pops – gluten-free, of course!
♥ Make sure your Valentine's candy is gluten-free!
♥ Explore some Gluten-Free Chocolate Recipes for Love!

♥ Serve up some morning love (no, I don't mean that!) — Chocolate Cherry Drop Scones that are free of gluten and refined sugar!
♥ Make heart-shaped gluten-free brownies and frost with Valentine's flair!
♥ Make Allergen-Free Sugar Cookies or Allergen-Free Red Velvet Cake!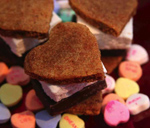 ♥ Buy your sweetie some See's Candy – make sure you check the allergen info first!
♥ Make allergen-free Sweetheart S'mores!
If you have any more Valentine's Day ideas, leave them in the comments!