Gluten-free donuts in 5 minutes
Posted on January 24th, 2012 by Alison
Read 14 Comments - Add Your Own »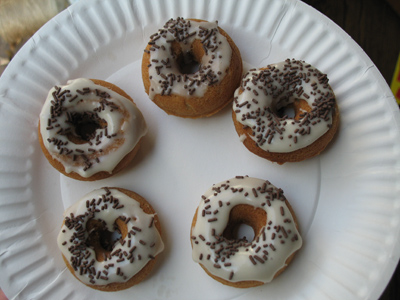 The other day I had a gluten-free donut emergency. There was a birthday in my daughter's class and the kid brought donuts to share. I am always prepared for birthdays with cupcakes in the freezer and I can make a fast brownie, but donuts? That is not in my repertoire.
But then I remembered that my mom had just given my daughters a Babycakes Donut Maker. At the time I wasn't that excited about another appliance in the house, but now I was ecstatic!  All I had to do was come up with a batter that was gluten-free and egg-free (daughter is allergic to eggs) and I would have mini donuts in about five minutes! I decided to use a pancake and waffle mix as the base and work from there. I always have The Cravings Place All Purpose Pancake and Waffle Mix on hand because it is a mix that does not call for eggs at all and somehow the waffles always defy gravity and come out fluffy. I sort of used their recipe (on their website) for Shortcake to make the donut batter. I can't be certain I followed it exactly, because, like I said, it was a donut emergency and I was in a hurry! You can probably use any gluten-free batter with success.
When I brought the mini-donuts to school, I peeked in the donut box that held the "regular" donuts and to my pleasant surprise, there were donuts with vanilla icing and chocolate sprinkles, just like I had made! My daughter and another allergic girl in the class that I brought donuts for were very happy, and I have to admit that I felt like Super Mom that day!
Here is (approximately) how I made the gluten-free dairy-free egg-free donuts:
Ingredients:
Directions:
Cut the butter or shortening into the dry mix, using a pastry cutter or knives until the the butter or shortening is blended in, or resembles small pebbles. Add the sugar and water and mix until fully blended. Batter should be somewhat thick.
Take a ziplock bag and cut off one corner so there is 1/2 inch hole. Spoon the batter into the bag, and following the directions on the donut maker, squeeze the batter out of the bag into the donut rounds when the donut maker is ready (hot). Fill it pretty full (even though the directions say to fill each with two tablespoons, don't bother measuring). The bottom side of the donut will brown more than the top, but if you turn the donut over before icing, no one will see the less-cooked side.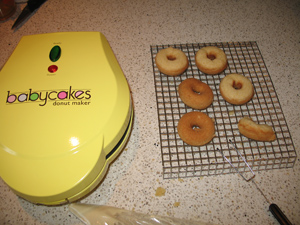 Let the donuts cool a little bit before icing them or the icing will melt down the sides. For a quick icing, I mixed a little Pamela's Vanilla Frosting Mix with a little water until it was the consistency I wanted, but you can also just use powdered sugar and water or milk, and add some vanilla too if you like. It's up to you how you want to ice them — you can dunk the whole thing to get a glaze all over, or ice the tops like I did. There are also several frosting recipes in the recipe booklet that comes with the donut maker.