Gluten-free dairy-free ice cream pie
Posted on April 26th, 2012 by Alison
Read 2 Comments - Add Your Own »
Pizza and cupcakes, pizza and cupcakes — this is the usual fare at children's birthday parties. I've got the whole bring-our-own-cupcakes thing down and I am used to delivering hot homemade pizza to the parties. But once in a while, a creative mom throws me for a loop by serving frosting-filled ice cream cones (that was an easy one, luckily) or ice cream sandwiches (the traditional dark cookie rectangle kind – not so easy).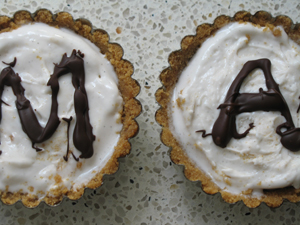 At the last birthday party my daughters attended, the dessert was ice cream pie. I used to love ice cream pies but really had never made one. Ah – a new challenge. I used allergen-free cookies and dairy-free ice cream to make individual pies for my girls. The crust turned out fine, although probably too crumbly if you were going to try to cut and serve it. Since they had their own it didn't matter and they ate them straight out of the baking tin.
Here's how I did it:
Ingredients:
Directions:
Crush cookies using a food processor (this is the easy and fast way and produces a finer crumb) or by putting them in a plastic bag and rolling the bag with a rolling pin. You should have about 1 to 1 1/2 cups of crushed cookies.
Melt about 1/4 cup of butter.
Add butter little by little to the crushed cookies either directly to the food processor or in a bowl. You want the cookie/butter mixture to stick together enough but not to be too oily. Many cookie crust recipes call for sugar to be added also, but I left it out. Seems sugary enough to me!
Press cookie/butter mixture into the bottom of a greased pie plate or ramekin or whatever you want to serve it in.
Put crust in the freezer to set for at least 15 minutes (more time is better, but I was in a hurry).
Take out the ice cream to soften a bit (10 minutes).
Smooth the softened ice cream into the crust.
Melt chocolate chips (if you do this in the microwave, cook for short intervals and stir each time). Drizzle the chocolate on top of pie.
Return pie to freezer. It is best to leave it for at least 30 minutes or longer.
To be honest, I didn't see my kids eat their pies because I had to leave the party, and I doubt they were perfect by ice cream pie standards, but the tins came back clean. That's all the proof I need! If I make this again I would like to buy mini pie dishes, use a more interesting ice cream flavor and make it farther ahead so they freeze more.
So, moms, what's the next birthday challenge? 😉