Happy Birthday to my girls and Aloha! gluten-free cakes
Posted on August 31st, 2010 by Alison
Read 5 Comments - Add Your Own »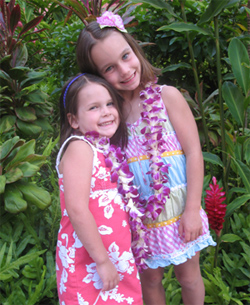 This year's double birthday party featured a Hawaiian theme. We went to Hawaii on vacation this summer and my girls fell in love with a hula dancer we saw. (I also encouraged the Hawaii idea so I could re-use the fish decorations I have used the last two years! I am running out of themes featuring the ocean.)
Once again, my mom made the cakes with Pamela's chocolate cake mixes, and they were gluten-free, dairy-free, and egg-free. I have already frozen the leftovers for any future cake needs that arise — I will keep the frosting as is or scrape it off and refrost as necessary!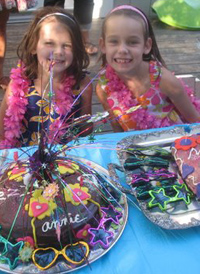 We had 12 little girls and invited the parents to stay for food and Mai Tais made with my husband's grandfather's secret Mai Tai recipe from Hawaii. You only needed one!
The gluten-free dinner menu included:
Quinoa tabouleh salad with cucumber, tomatoes, green onions, mint, parsley, lemon juice, feta cheese
Black bean salad with corn, jicama, red pepper, and cucumber, tossed in a vinaigrette
Oven roasted baby gold potatoes
Barbecued Aidell's chicken apple and cajun style andouille sausages
Freshly cut pineapple
The party was a success, complete with tiki mask pinata, treasure hunt and a spontaneous dance party at the end. It is hilarious to hear 6 and 4 year olds singing, "All the single ladies!" They are growing up too fast!
Past birthday posts:
Happy Birthday to my girls and wow! gluten-free mermaid cakes! 2009
Happy Birthday to my girls 2008