Healthy (and food allergy friendly) snack options for kids
Posted on August 18th, 2011 by Alison
Read 5 Comments - Add Your Own »
I love to snack and I guess I'm pretty good at making healthy snack choices for myself. Kids, on the other hand, require a bit of coaching as to what constitutes a healthy snack. Pre-dinner time is the worst, when kids turn into beggars looking for handouts! So, to stave them off before they reach for the chips and treats, I try to put a variety of snacks out before kids ask for them — you know what they say: be one step ahead of your kid. Sometimes I set them out in a high-traffic area and don't say a word. They discover them and sure enough, they are eating the healthy snacks and not rifling through the pantry.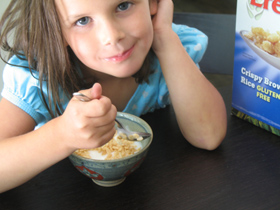 Need kid-friendly snack ideas? All of the snacks on my list are gluten-free, dairy-free, soy-free, egg-free and nut-free… also minimally processed and healthy! Even kids with food allergies can overload on packaged carb-heavy snacks and sugary treats, so it's important to not fall into the deprivation syndrome (letting them have as much as they want of the allergen-free treats because you feel they are deprived enough already).
These are snacks that my kids, ages 5 and 7, will actually eat, plus they double as great lunch box items!
Coconut yogurt sprinkled with gluten-free cereal, like Erewhon Crispy Brown Rice cereal or Erewhon Cocoa Crispy Brown Rice Cereal for a special treat
Homemade granola
Snap peas – blanch and then serve or refrigerate and save for later
Carrots and hummus or rice crackers and hummus
Olives – who can resist putting them on fingers?
Sliced cucumbers or cucumbers sliced into sticks – it's good to change it up with kids
Pickles
Garbanzo beans, or roasted garbanzo beans — take a can of beans, rinse, pat dry, toss with olive oil, salt, and other spices if desired, and roast in oven at 350 or 400 degrees for 30-40 minutes until crunchy
Homemade sweet potato chips – peel and slice sweet potato into rounds, toss with olive oil, salt and other spices if desired and bake in 400 degree oven, flipping them once.
Fruit – this is an easy one, but don't forget to try new ones!
Avocado sprinkled with salt or guacamole with organic tortilla chips
"Cheese" crackers – rice crackers topped with Daiya non-dairy cheese o other non-dairy cheese toasted in toaster oven or oven
Rice cakes with melted non-dairy "cheese" – toaster oven or microwave
Organic popcorn tossed with oil and salt
Healthy muffins, or better yet, mini-muffins – next time you make a batch, double it and freeze. Pull one out and thaw or microwave.
Chunks of turkey or salami (make sure it doesn't contain milk) with rice crackers to make mini-sandwiches
"Turkey rolls" – just rolled up slices of turkey!
Apples slices spread with Sunbutter
Leftover pancakes
Pumpkin seeds or sunflower seeds
Smoothie pops – take your leftover smoothie and put it in a popsicle mold. Now your kids are eating frozen spinach!
Happy and Healthy Snacking!